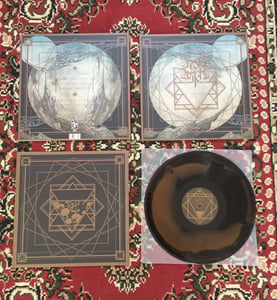 £

8.00
Debut album 'A Harrowed Dawn'
CD and 140g bronze/black vinyl.
Vinyl limited to 300 copies.
Recorded/mixed by Chris Fielding @ Skyhammer Studio
Mastered by Brad Boatright @ Audiosiege
Press bits -
Kerrang, 4Ks - "A Harrowed Dawn is a masterclass in filthy heaviness, but what do you expect from one of the weightiest bands in the Brit-metal underground?"
Terrorizer, 8.5/10 - "If last year's 'The First Four Beers' was a party, then 'A Harrowed Dawn' is the painful hangover"
Outlaws Of The Sun - "This ranks as one of the best and heaviest Doom/Sludge Metal albums of 2016. Seriously it's that FUCKING GOOD..."
Sludge Lord - "(A Harrowed Dawn) captures the essence of a band at their crushing best. Iron Witch are carrying the torch for British Sludge and are glowing in the light it provides."